Ukainpro | Architect & Construction PSD Template
Version 1.0 - by TemplatesCoder
---
created: 03/29/2019
latest update: 03/29/2019
by: TemplatesCoder
email:

[email protected]
Thank you for purchasing our theme. If you have any questions that are beyond the scope of this help file, please feel free to email via our user page contact form here: templatescoder on ThemeForest. Thanks so much!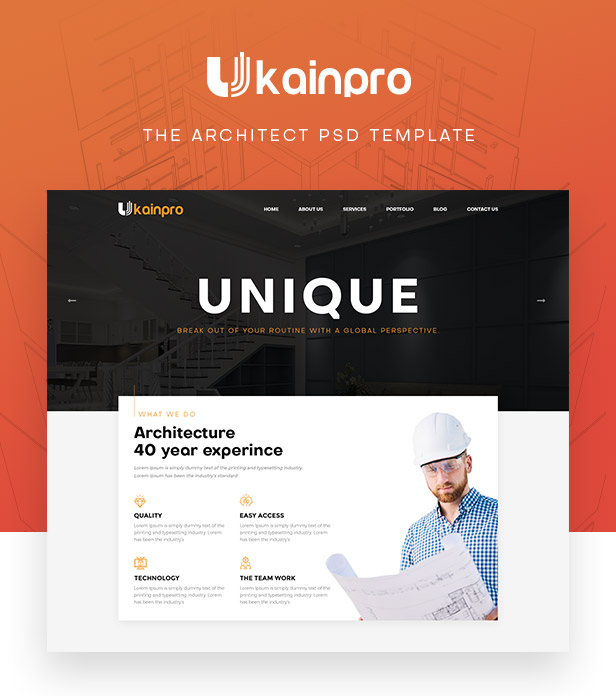 "Ukainpro | Architect & Construction PSD Template" is a captivating and enchanting construction PSD template designed for architecture, engineering, building services, renovation, painting, and all construction related services. The template is fully furnished with the unique features and elements of this niche, so it will be the best solution to your requirements and design ideas. Notably, this theme allows you to outline your best services, skills, and projects fantastically through the attention-grabbing expertise, project and sector pages. As well, you can enhance the convenience of your clients with the advanced inbuilt contact us form.
Ukainpro is designed by the best designers of Design community. Equipped with over 12 awesome PSD templates, carefully developed and prepared for quick & effective project implementation, Ukainpro amplifies your project super fresh look, meeting all coming trends in UI & UX design of upcoming year. Also, this will be very easy to customize.
12 PSD files included in Ukainpro Version 1.0 (Updated on 29th March, 2019) – The design is very elegant and modern. Also this will be very easy to customize.
12 Stunning Perfect Pixel / Detail Layered PSDs.
Themeforest's Most Popular New PSD Product.
Fastest Selling PSD Template Of All Time.
Based on 1170px / 320px / 768px Grid System.
Awesome Unlimited Portfolio.
Great & Clear Blog Layout.
12 Super Premium Design Pages.
Unique and Modern Style.
Super Clear and Clean Layout.
Awesome and Creative Design.
Easily customizable Photoshop files.
Every page is fully layered and organized with proper names.
This PSD theme is perfect for convert into Wordpress, Joomla and other systems… to make website of Creative Corporate, Corporation, Architecture, Engineering, Building services, Renovation, Painting, and all Construction related services, Etc…
Strange and unique interface, streamlined and impress.
Pixel Perfect.
Fully Customizable.
Free Fonts.
Retina Ready.
Great Support 24/7.
Easy to find the files name, folder, layers, goups.
And many more…
01_HOMEPAGE
01_01_CLASSIC_HOMEPAGE.psd
02_ABOUT_US
02_01_ABOUT_US.psd
02_02_OUR_TEAM.psd
03_PORTFOLIO
03_01_PORTFOLIO_SLIDER.psd
03_02_PORTFOLIO_GRID.psd
03_03_PORTFOLIO_DETAIL.psd
04_BLOG
04_01_BLOG_LISTING.psd
04_02_BLOG_MASONRY.psd
04_03_BLOG_DETAIL.psd
05_PAGES
05_01_PACKAGE_PAGE.psd
05_02_CONTACT_US.psd
06_SERVICES
You need to Install below Fonts before use Ukainpro PSD Files.
In order to edit the file, you need to have Adobe Photoshop installed on your system, and the fonts mentioned in the credits installed.
As you can see on the right, the layers are well organized and gropued into folders, which make editing very easy.
So, all you have to do, is select the layer from the right, and then edit it with Adobe Photoshop.
That's all! Enjoy.
To save on upload capacity, We started conducting hide entire Groups when we save some new PSD Files.
How you can turn on Group and view all Layers?
It is super easy. You need to open Photoshop. Go to Windown > Layers (F7) to show the Layers Panel.
In The Layers Panel, Click The Eye Icon. You will turn on Groups of Layers. Enjoy.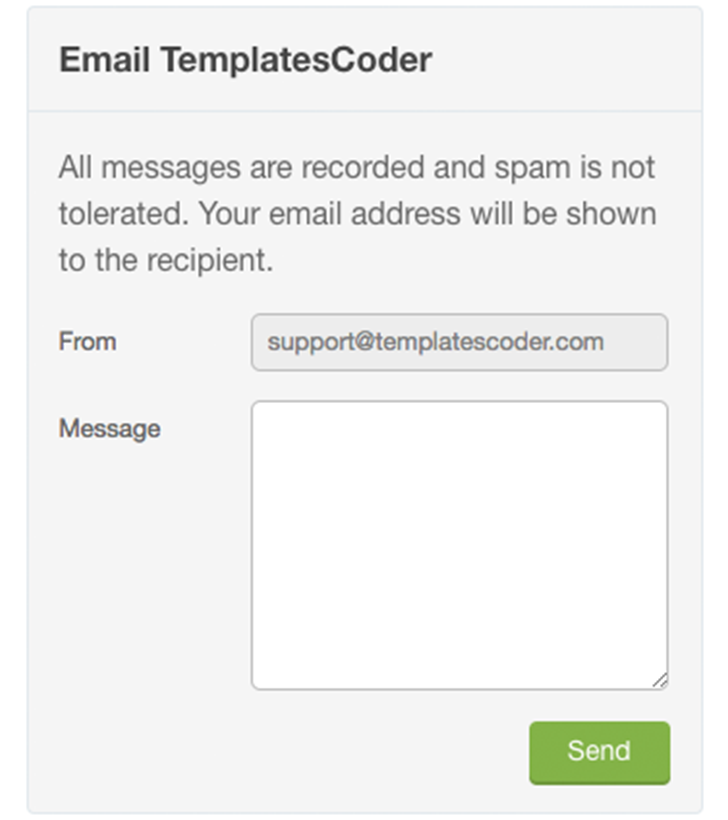 This is just a part of what is included in this theme. There is much more in there so you should check out the screenshots. If you have any questions about customization of this template witch are not covered in the documentation feel free to ask a question in the comment section or contact me directly via e-mail form on our profile page.
A Product by TemplatesCoder - A Venture of SkyWebTech
LET'S CONNECT - SEE WHAT'S NEW
Facebook - Twitter - Behance - Dribbble
Enjoy and don't forget to rate our template. Thanks so much!!!
Version 1.0 – 29 March, 2019